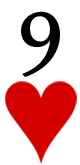 Hearts - Emotions - Relationships - Love
Nine of Heart Meaning: Disappointment in Love
Karma for the 9 of Hearts - Impersonal Love
---
This has been called the "Wish Card" and for all 9 of Hearts, there is an intimate connection between the wish for money and the wish for love. Money may come, or love may come, but the two never seem to work together for any length of time.
Nine of Heart have a tendency to worry too much about what other people think. They need to cultivate the art of discrimination and learn the difference between what's really important and what isn't. If they can do this, and take the higher road when they feel slighted or unappreciated, their personal disappointments in life will be much less frequent. To be sure, the Nine of Heart people are not weak. If they were, they wouldn't be able to handle the difficult life pattern of their Cards. They have a lot of tolerance and always strive to understand what's going on.
If you are a 9 of Hearts, you must learn to love your neighbor as yourself - and don't forget that he/she lives all over the world!

---
NINE OF HEART BIRTHDAYS:
August 30 (Virgo), September 28 (Libra), October 26 (Scorpio), November 24 (Sagittarius), December 22 (Capricorn)
---
FAMOUS NINE OF HEARTS:
Cameron Diaz, Michael Michele, Peggy Lipton, Warren Buffett, Hilary Duff, Mira Sorvino, Naomi Watts, Brigitte Bardot, Marcello Mastroianni, Hillary Clinton, Bob Hoskins, Katherine Heigl, William F. Buckley Jr., Diane Sawyer, Lady Bird Johnson