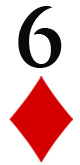 Diamonds - Values - Security - Dharma
Six of Diamond Meaning: Completion of Obligations
Karma for the 6 of Diamond - True Worth
---
Six of Diamond represent the need for understanding values. A very successful and satisfactory life can be built for these people when money is not made the sole objective.
The acquisition of knowledge is not easy for the Six of Diamonds; there are obstacles and frustrations for them. There may be difficulty in acquiring an education in early life -- or there may be unwillingness to bother with it on their own part. Money, however, is vital to the people born under this card. Often times they want to begin earning it even before they know where, or how! The women of this Card should strive not to depend on their personalities for success, and the men not seek a wealthy marriage to promote their own objectives.
For both men and woman Six of Diamond, finances tend to go to extremes, and will remain in one state for a long time -- either way up, or way down.

---
SIX OF DIAMOND BIRTHDAYS:
January 21 (Cancer-Aquarius), February 19 (Aquarius-Pisces), March 17 (Pisces), April 15 (Aries), May 13 (Taurus), June 11 (Gemini), July 9 (Cancer), August 7 (Leo), September 5 (Virgo), October 3 (Libra), November 1 (Scorpio)
---
FAMOUS SIX OF DIAMOND:
Baby Spice, Geena Davis, Seal, Marquex Hemingway, Jeff Daniels, Kurt Russell, Rudolf Nureyev, Leonardo da Vinci, Stevie Wonder, Shia LaBeouf, Jacques Cousteau, Courtney Love, O.J. Simpson, Charlize Theron, David Duchovny, Rose McGowan, Jesse James, Ashlee Simpson