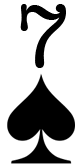 Spades - Wisdom - Labor - Acceptance
Seven of Spade Meaning: Peace in the Higher Self
Karma for the 7 of Spades - Recognition of Power
---
The 7 of Spades are powerful people and quick thinkers. Illness may come through worry over business - or a frustrated desire to live beyond their means. Their heritage of power is sometimes misdirected to a longing for magnificence until they learn to awaken to understand their greater wisdom.
KARMIC CHALLENGE for the Seven of Spade: Victory over Materiality
Seven of Spade will work quietly, often secretly, and are usually willing to remain behind the scenes. For that reason they are valuable in secret service and their instinctive discernment of truth or falsehood. They have many friends but few loves. Generosity is a strong point and willingness to serve. In business they are honest and reliable and in love they are generally faithful.

---
SEVEN OF SPADE BIRTHDAYS:
January 7 (Capricorn) February 5 (Aquarius) March 3 (Pisces) April 1 (Aries)
---
FAMOUS SEVEN OF SPADES:
Nicolas Cage, Katie Couric, Jennifer Jason Leigh, Henry "Hank" Aaron, Alexander Graham Bell, Jessica Biel