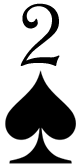 Spades - Labor - Wisdom - Health
Two of Spade Meaning: Partnership in Work
Karma for the 2 of Spade: Fear of Unity
---
Two of Spade people are quick thinkers, sociable, and very direct. They are also hard workers, but are never very easy to work with.
KARMIC CHALLENGE for the Two of Spade: Finding the balance between easygoing complacency, and willfulness.
Those born with the Two of Spade as their birthday card tend to do well with property, and investments in minerals or products of the earth. They are also savvy with new technology, and have a flair for the performing arts.
The 2 of Spade will often look for some kind of diversion in the form of gambling or risk taking. However, when it comes to love, they are only interested in meaningful or long-term relationships. Mental rapport is high on their list requirements, and their straightforward charm and forthright demeanor almost always get them where they want to go.

---
TWO OF SPADE BIRTHDAYS:
January 12 Capricorn, February 10 Aquarius, March 8 Pisces, April 6 Aries, May 4 Taurus, June 2 Gemini.
---
FAMOUS TWO OF SPADE PEOPLE:
Rush Limbaugh, Joe Frazier, Kirstie Alley, Laura Dern, Bertolt Brecht, Jimmy Durante, Aidan Quinn, Freddie Prinze Jr., James Van Der Beek, Butch Cassidy, Candace Cameron, Lowell Thomas, Audrey Hepburn, Stacey Keach, Charlie Watts, Hedda Hopper.