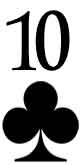 Clubs - Mind - Communication - Intelligence
Ten of Clubs Meaning: Mental Illumination
Karma for the 10 of Clubs - Vacillation of Values
---
The greatest success for the 10 of Club lies within the mental realm. This is also considered the Moon Card; known to astrologers as the emotional mind. Mental strength, assuredness, and will power are the trademarks of those born under this high card, as well as blind ego, and cunning.
Ten of Club people are often suspicious of others, and demand loyalty from friends and family. They are known as task-masters within the family, and feel they are deserving of that title. They are afraid of being judged, and are insecure on a very deep level.
All 10 of Club like to work, and for those instilled with a good sense of values early in life, success is theirs for the taking.

---
TEN OF CLUB BIRTHDAYS:
January 30 (Aquarius), February 28 (Pisces), March 26 (Aries), April 24 (Taurus), May 22 (Taurus/Gemini), June 20 (Gemini), July 18 (Cancer), August 16 (Leo), September 14 (Virgo), October 12 (Libra), November 10 (Scorpio), December 8 (Sagittarius)
---
FAMOUS TEN OF CLUBS:
Dick Cheney, Vanessa Redgrave, Gene Hackman, Franklin D. Roosevelt, Bernadette Peters, Mario Andretti, Keira Knightley, Steven Tyler, Barbara Streisand, Shirley MacLaine, Naomi Campbell, Sir Laurence Olivier, Nicole Kidman, Errol Flynn, Van Diesel, Hunter S. Thompson, Steve Carell, Madonna, Kim Basinger, Hugh Jackman, Luciano Pavarotti, Richard Burton, Roy Scheider, Mary Queen of Scotts