Meaning of the 7 of Club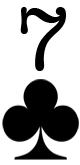 Clubs - Mind - Communication - Intelligence
Seven of Clubs Meaning: Inspired Knowledge
Karma for the 7 of Club - Agnosticism
---
All 7's feel driven to overcome obstacles that stand in the way of progress. The club suit is symbolic of information, ideas and communication. Thus, the Seven of Club are excellent problem solvers who think outside the box.
During their early years, the young and impressionable Seven of Club found ways to stabilize their unstable environment. Their inherently generous, fun-loving nature laid the foundation for an inventive mentality and sense of irony towards the world in general.
Those born on a 7 of Club day are keenly aware of what they - and the world needs - to be a better place. They are eclectic, spontaneous thinkers and highly intuitive. They also have a knack for commercializing ideas and want to share their knowledge with anyone who will listen.
None of the 7's have it easy and the Seven of Club is no exception. Stress and worry are a constant and tend to cause psychosomatic health problems. The 7 of Club people loathe dogma and resist the conventions of religion, preferring metaphysical science over blind faith.
If your gender is female, you prefer your independence but love to nurture. If your gender is male, your rakish attitude can sometimes spiral into cheerful irresponsibility. Relationships are characterized by energy and vigor, and rough-cut gems. Not one to shy away from conflict, the rebel in you can surprise even those who know you well!
Birthdays for the 7♧
March 29 (Aries), April 27 (Taurus), May 25 (Gemini), June 23 (Cancer), July 21 (Cancer/Leo), August 19 (Leo), September 17 (Virgo), October 15 (Libra), November 13 (Scorpio), December 11 (Sagittarius)
Soul Card for the 7♧
The soul card for the 7 of Club is the brilliant Eight of Diamond. Also known as the Sun Card, this dazzling card symbolizes the creation of the material world. As the soul-nature of the 7 of Club, it is easy to see their motivation to invent, advance, or otherwise shine the light of their creative mind for the benefit of all to see.
Famous 7♧ People
Anne Bancroft, Beverly Sills, Bill Clinton, Casey Kasem, Cassandra "Elvira" Peterson, Cat Stevens, Clarence Thomas, Connie Sellecca, Coretta Scott King, Cy Young, Don Knotts, Donna Mills, Edward VIII King of England, Eriq La Salle, Ernest Hemingway, Garry Marshall, Gene Roddenberry, Jack Klugman, Janet Reno, Jennifer Capriati, Jermaine Jackson, Jill St. John, John Kerry, John Major, John Ritter, Josh Hartnett, June Carter Cash, Ken Kesey, Kenneth Starr, Lauryn Hill, Lee Iacocca, Leslie Uggams, Linda Lavin, Lucy Lawless, Malcolm Forbes, Mario Puzo, Michael Beckwith, Mike Myers, Miles Davis, Mo'Nique, Orville Wright, Osho, Pearl Bailey, Penny Marshall, Ralph W. Emerson, Robert Louis Stevenson, Robin Williams, Roddy McDowall, Sam Walton, Sandy Dennis, Sarah Ferguson, Sheena Easton, Tanya Roberts, Teri Garr, Tipper Gore, Tom T. Hall, Ulysses S. Grant, Whoopi Goldberg