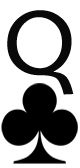 Clubs - Mind - Communication - Intelligence
Queen of Clubs Meaning: Service
Karma for the Queen of Club - Sacrifice for the Good of Others
---
Always positive and strong willed, the Queen of Club are practical and decisive in their application of knowledge. Likewise, their quest for knowledge is insatiable, and they are impatient and intolerant of ignorance or mental laziness in others.
The women Queen of Clubs are not domestic. They don't know the meaning of subservience let alone how to play the part! The male Queen of Club, although seldom lacking in sympathy, need to learn to handle their tempers. All are natural leaders in any profession they follow.
Besides their deep and sometimes obsessive urge for a personal love, the Queen of Club craves financial success for the respect it brings. They are generous and good spenders, and prefer to make money by their own efforts.

---
QUEEN OF CLUB BIRTHDAYS:
January 28 (Aquarius), February 26 (Pisces), March 24 (Aries), April 22 (Taurus), May 20 (Taurus), June 18 (Gemini), July 16 (Cancer), August 14 (Leo), September 12 (Virgo), October 10 (Libra), November 8 (Scorpio), December 6 (Sagittarius)
---
FAMOUS QUEEN OF CLUBS:
Elijah Wood, Sara McLachlan, Alan Alda, Erykah Badu, Johnny Cash, Harry Houdini, Steve McQueen, Jack Nicholson, Aaron Spelling, Cher, Jimmy Stewart, Paul McCartney, Isabella Rossellini, Will Ferrell, Corey Feldman, Halle Berry, Steve Martin,Yao Ming