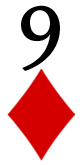 Diamonds - Values - Security - Dharma
Nine of Diamond Meaning: - Loss of Finances
Karma for the 9 of Diamond - Faith in the Golden Calf
---
There seems to be no middle ground for the Nine of Diamond. These people are either philanthropic, generous and protective towards others, or they live for themselves alone; unable to acquire the money and power they want, and dissatisfied with life because of it.
For the most part, the people born with under the 9 of Diamond are slated for success. They are gregarious, inclined to materiality and may be mercenary, but the natural tendency is towards generosity; even though they will never forget to protect themselves first.
While there are no weaklings amongst this Card, the early life of the Nine of Diamond is filled with stressful situations and feelings of inadequacy. They are usually dominated by either a family member, or develop a deeply personal connection with their community or church. Once that control has been broken however, the Nine of Diamond can become manipulative and domineering towards others, mainly in an attempt to get even with their past!

---
NINE OF DIAMONDS BIRTHDAYS:
January 18 (Capricorn), February 16 (Aquarius), March 14 (Pisces), April 12 (Aries), May 10 (Taurus), June 8 (Gemini), July 6 (Cancer), August 4 (Leo), September 2 (Virgo).
---
FAMOUS NINE OF DIAMONDS:
Kevin Costner, Ice-T, Sonny Bono, Billy Crystal,Albert Einstein, David Letterman, Paul Bono Hewson, Fred Astaire, Jerry Stiller, Joan Rivers,Barbara Bush, 50 Cent, George W. Bush Jr, Sylvester Stallone, Queen Mother, Keanu Reeves, Barack Obama