Seven of Heart is the SOUL CARD for the Ace of Spade
---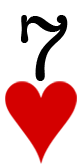 Overcoming
Jealousy and
Emotional Discord
---
Ace of Spade are challenged by jealousy and betrayal. They will need to lower their expectations of loved ones if they want to overcome this karmic challenge in life.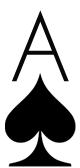 A Quest
for the
Meaning of Life
---
All of the ACE's have one desire in particular. The SPADE suit is symbolic of wisdom, labor, and our psyche. The Ace of Spade's deepest desire is to unravel the secrets of life!
WHAT IS YOUR SOUL CARD?
"Embodied in your card, which traditionally has been identified as a symbol of death, is also the key to the mystery of life. Unfortunately, for the majority of those who are identified with this card, the mystical meaning of this symbol is lost. If you belong to this category, this card becomes a symbol of labor, and all too often you try to solve all your problems by the sweat of your brow or through questionable schemes. But, as you read these lines, realize that your card is also a symbol of spiritual wisdom, and as the life pattern portrayed in your card is not a particularly easy one, keep this in mind. It may help you cope with and transcend the many challenges which appear to be part of your destiny.
The temptation to indulge in bitter despair may be a real hazard. Remember, from the metaphysician's viewpoint, despair and inspiration are often considered to be a step apart. Discipline and vision are essential key words toward the overcoming of your problems. In the process, you may also become a source of inspiration to others."

~Arne Lein, What's Your Card?

---
ACE OF SPADE BIRTHDAYS:
January 13 Capricorn - February 11 Aquarius - March 9 Pisces - April 7 Aries - May 5 Taurus - June 3 Gemini - July 1 Cancer
---
FAMOUS ACE OF SPADES:
Orlando Bloom, Stephen Hendry, Jennifer Aniston, Burt Reynolds, Sheryl Crow, Emmanuel Lewis, Keely Smith, Bobby Fischer, Russell Crowe, Jackie Chan, Billie Holiday, Karl Marx, Tammy Wynette, Chris Brown Anderson Cooper, Suzi Quatro, Rafael Nadal, Pamela Anderson, Carl Lewis, Princess Diana