Meaning of the Ace of Spade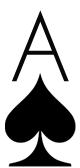 Spades: Earth - Work - Spirituality
Ace of Spade: Quest for Wisdom
Karma for the Ace of Spade: Emotional Discord
---
Aces represent longings and quests. The spade suit is symbolic of the earth, our physical existence, and spiritual connection to both. The meaning of the Ace of Spade is the quest to understand that connection. In its essence, this quest is to understand the meaning of life. How interesting then to find the most challenging karma for the Ace of Spade involves matters of the heart!
The people born on an Ace of Spade day are often called upon for help, which they freely give. This is especially true from their women friends or relatives who tend to equate money with loyalty. Thus, the less personal their charitable contributions, the better.
Ace of Spade is not an easy card to have, however, it can be the most rewarding. Inner work is needed to overcome negative thinking habits and the emotional stress of relationships. In it's most positive state, the Ace of Spade promises profound realizations and victory in all areas of life.
The magnetic charm of the Ace of Spade is their greatest asset. In love, they jump right in and give it their all. They never want to feel they haven't tried hard enough and are always forgiving. For lasting love, however, the Ace of Spade must choose their partner wisely; perhaps with one willing to share in their quest for unraveling the mysteries of life.
Birthdays for the A♤
January 13 (Capricorn) - February 11 (Aquarius) - March 9 (Pisces) - April 7 ( Aries) - May 5 (Taurus) - June 3 (Gemini) - July 1 (Cancer)
Soul Card for the A♤
The Soul Card for the Ace of Spade is the 7 of Heart. It is the sensitive nature of this heart card that gives the Ace of Spade their magnetism and vulnerability in relationships. It also describes their soul nature to answer calls for help from all those in need.
Famous A♤ People
Anderson Cooper, Billie Holiday, Bobby Fischer, Burt Reynolds, Carl Lewis, Charles Nelson Reilly, Chris Brown, Christopher Darden, Chuck Barris, Curtis Mayfield, Dan Ackroyd, Emmanuel Lewis, Eva Gabor, Francis Ford Coppola, Jackie Chan, James Garner, Jennifer Aniston, Jerry Brown, John Oates, Josephine Baker, Karen Black, Karl Marx, Keely Smith, Kimberly Guilfoyle, Leslie Nielsen, Liv Tyler, Orlando Bloom, Pamela Anderson, Princess Diana, Rafael Nadal, Raul Julia, Richard Moll, Russell Crowe, Sheryl Crow, Shonda Rhimes, Stephen Hendry, Suzi Quatro, Tammy Wynette, Tony Curtis