Two of Heart is the SOUL CARD for the Ace of Club
---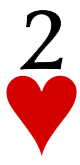 Uniting
2 Hearts
with
One Love
---
The Ace of Club are happiest when they can share their quest for knowledge with the people they love.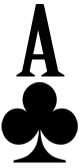 The
Quest
for
Knowledge
---
All of the ACE's have one desire in particular. The CLUB suit is symbolic of the mind and how we think. The Ace of Club's greatest desire is to learn!
SOUL CARD?
Positively expressed, the Ace of Club represent an eager search for knowledge. Negatively, this card represents prying curiosity.
The prime motivating force for this card is an insatiable thirst for knowledge, combined with a desire for a deep and lasting union with someone who is emotionally compatible. Hence, the Ace of Club is always looking for his or her "soul mate", believing that true marriages are made in heaven.
The Ace of Club is one of the "swing cards"; each and every year it trades places with the 2 of Heart, a card that symbolizes the union of love. This interesting place in the cards gives the Ace of Club conflicting results in matters of the heart. Once a relationship develops, they feel as though their quest for knowledge has been stymied. When they once again apply themselves to their eager quest for knowledge, they lose the love they so desired! Combining their two great loves is the key to happiness.

---
ACE OF CLUB BIRTHDAYS:
May 31 (Gemini), June 29 (Cancer), July 27 (Leo), August 25 (Virgo), September 23 (Libra), October 21 (Scorpio), November 19 (Scorpio/Sagittarius), December 17 (Sagittarius)
---
FAMOUS ACE OF CLUB PEOPLE:
Colin Farrell, Brooke Shields, Clint Eastwood, Walt Whitman, Gary Busey, Alex Rodriguez, Claudia Schiffer, Rachael Ray, Bruce Springsteen, Judge Judy, Jody Foster, Meg Ryan, Larry King, Indira Gandhi, Mila Jovovich, Sri Daya Mata